Gathering Our Bundles Life Promotion Initiatives Presents Life Promotion Month
April 19, 2022 @ 11:00 am

-

May 16, 2022 @ 5:00 pm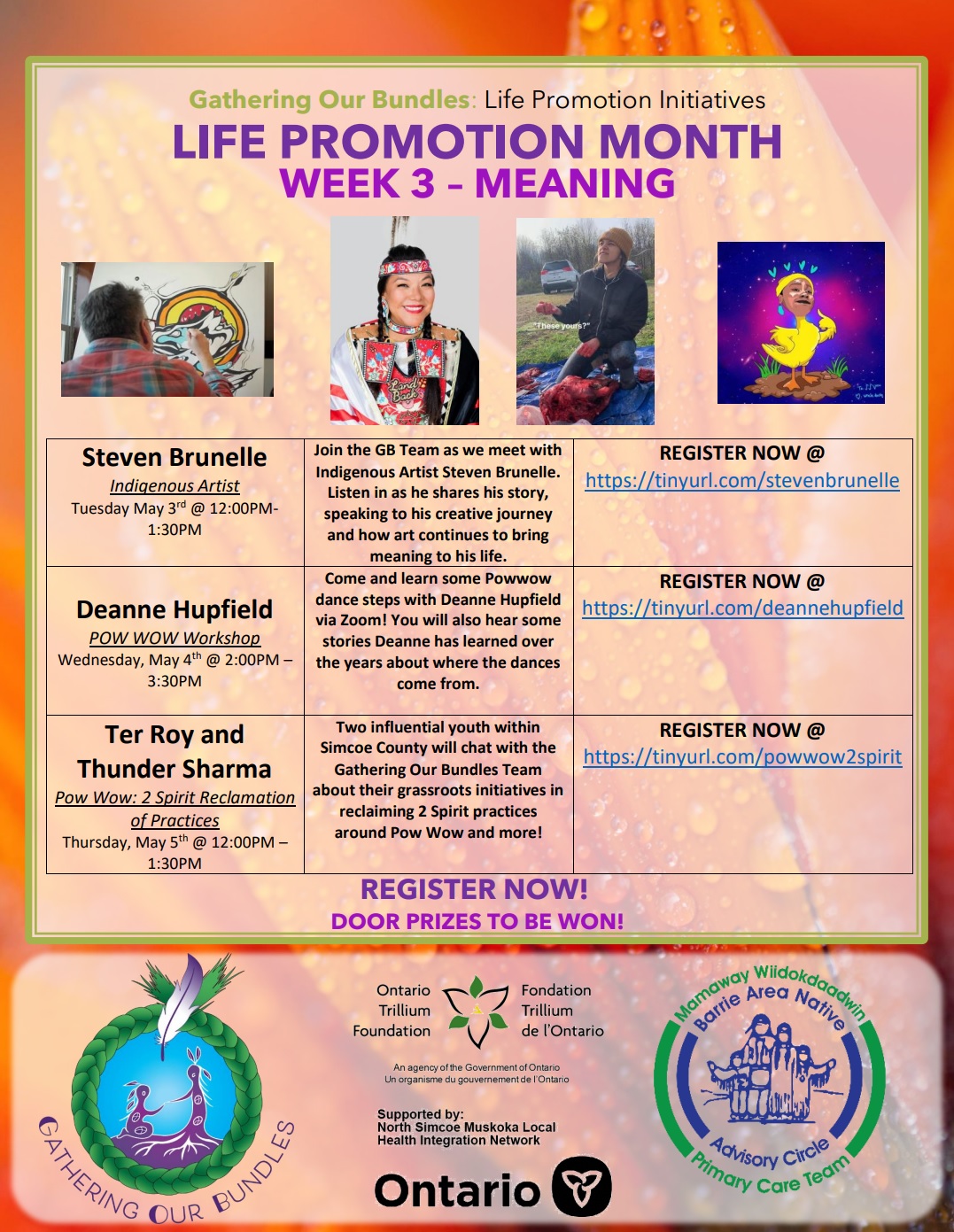 𝐋𝐈𝐅𝐄 𝐏𝐑𝐎𝐌𝐎𝐓𝐈𝐎𝐍 𝐖𝐄𝐄𝐊 𝟑 𝐈𝐒 𝐌𝐄𝐀𝐍𝐈𝐍𝐆 <3 Please REGISTER NOW to join us for this coming weeks exciting line up!
𝐓𝐮𝐞𝐬𝐝𝐚𝐲 𝐌𝐚𝐲 𝟑𝐫𝐝 𝟏𝟐:𝟎𝟎𝐩𝐦-𝟏:𝟑𝟎𝐩𝐦 Indigenous Artist Steven Brunelle! Listen in as he shares his story, speaking to his creative journey and how art continues to bring meaning to his life.
𝐖𝐞𝐝𝐧𝐞𝐬𝐝𝐚𝐲 𝐌𝐚𝐲 𝟒𝐭𝐡 𝟐:𝟎𝟎𝐩𝐦-𝟑:𝟑𝟎𝐩𝐦 Come and learn some Powwow dance steps with Deanne Hupfield via Zoom! You will also hear some stories Deanne has learned over the years about where the dances come from.
𝐓𝐡𝐮𝐫𝐬𝐝𝐚𝐲 𝐌𝐚𝐲 𝟓𝐭𝐡 𝟏𝟐:𝟎𝟎𝐩𝐦-𝟏:𝟑𝟎𝐩𝐦 Two influential youth within Simcoe County will chat with the Gathering Our Bundles Team about their grassroots initiatives in reclaiming 2 Spirit practices around Pow Wow and more!